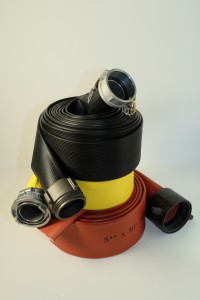 Rubber-Covered Fire Hose
Manufactured to meet or exceed NFPA standard 1961, Tuf-Hide rubber-covered fire hose is designed for extended service and built to resist ozone, oxidation and most chemical/petroleum products. Choose from Virtually maintenance free, this hose type, which includes LDH supply, comes standard in high-visibility yellow and red; custom colors are available upon request, as well as shorter, pony lengths. Available diameters include: 1, 1.5, 1.75, 2, 2.5, 3, 4, 5, and 6 inches.
Choose Hose Diameter Below
Our rubber fire hose carries a five-year warranty against material and manufacturing defects, notwithstanding mistreatment and/or misuse. We stand behind our rubber fire hoses: Defective hose, couplings and configurations will be replaced at no charge.
Rubber Fire Hose FAQ
Q: What are fire hoses made of?
A: Rubber-covered supply hose consists of a nitrile rubber tube and cover with 100% synthetic yarn reinforcement. A "through-the-weave" construction ensures that the hose will not divide even when exposed to fuels, oil, and most low-concentrated chemicals.